ASUS servers have earned worldwide acceptance from major economies and brands today. The power, flexibility, and other supporting technologies of the ASUS servers have proved to outnumber many other brands in terms of quality, adaptability, and performance.
The use of the most advanced, optimized, and effective technologies by the ASUS servers at the most efficient costs has made them pile up the table with a lot of appreciation and credibility. ASUS servers have climbed a big leap in offering high-quality design with a compatible and durable server structure which makes it quite handy and flexible.
ASUS has proved to offer streamlined assistance in ensuring high-quality systems that can help ASUS workstations operate smoothly and productively for any business functionalities. ASUS also works efficiently on firmwide parameters of hardware devices in order to fit in with the characteristics of particular business lines. ASUS's technical support has also been recognized to be top among its peers.
ASUS servers along with its other product line saw a massive response in India because of its efficient and aggressive pricing and high-performing specs. One most important things that server consumers in India liked was its compatibility and flexibility in adjusting to any version of Linux. The customization abilities offered by the ASUS servers give a long-term solution to businesses in India.
ASUS has played a major role in building furious competition between monopolistic server brands and has made the server industry glow brighter with high-end standard-setting and benchmark establishments. ASUS in India has been a revolution and is expected to do a lot of good in the coming years as well.
ASUS server's build quality
ASUS servers are not just the most flexible and easy to handle servers, but are also robust and fulfilled with high-quality durables. ASUS servers are built in the most advanced state-of-the-art structure that makes it easy to adjust, accommodate and also be strong against the hardest of hits.
The components used in building the premium ASUS rack servers make them streamlined to stay upright and long-lasting. These ASUS servers are also design to support proper ventilation and temperature facilities. In addition to the premium server quality, you also get an extended warranty by Serverstack for the important hardware components.
ASUS server's performance
ASUS offers you a great of high-performing 2U servers that are equipped with a hybrid-storage design along with great power utilization efficiency. The servers by ASUS are powered by the latest Intel Xeon scalable processors that make it deliver high-quality performance with minimal or no latencies.
It makes use of efficient thermal radar technology to reduce the fan-power consumption of your server by up to 20%. It is also equipped with a redundant power supply that will keep your workload intact. The scalable design and structure of the ASUS servers make them upgrade and downsize easily as per the workload requirements.
ASUS servers have highlighted their name in the mid-range high-quality server selling by offering affordable and reasonable servers that can be accommodated easily by small business owners or low-budget individuals as well.
ASUS servers guarantee performance and assurance of their components along with offering the most flexible and secure interface. You get all the premium features of a full-fledged server along with its support prices at the most reasonable rates from ASUS.
The custom-made ASUS servers can be bought at a minimal price of Rs. 1,00,000** as well. You can also go for higher and more advanced variants with higher specs and configurations at a comparatively lesser price than that of other brands.
Guidance while buying the server
Serverstack is equipped with the most experienced and trained experts who will guide you through the most influential advice and suggestions for helping you to make the most informed and correct server decisions.
We understand your requirements and as per that simulate your situation and list down the effective solutions with credible reasons that can help you get confidence in your selected servers. Contact us today and we'll help you make the most correct server direction!
Right price as compared with performance
With ASUS servers, you get the assurity of ultimate performance at the most reasonable and worthful price range you could ever come across.
ASUS servers come with additional period warranties for each of its components. You can also check the impressive client testimonials and experiences listed by the ASUS server consumers to date. ASUS has done a great job in building reputable trust and confidence in the efficiency and powerful functioning at reasonable prices.
ASUS makes the perfect use of advanced state-of-the-art technology, programs, and applications that makes it powerful and productive with the highest uptime. It makes smart use of resources and bandwidth so that your server never crashes or faces any kind of latency.
Customer relations with Serverstack
Serverstack has proven to be an industry leader when it comes to offering the most responsive and interactive support services. We here at Serverstack believe in offering the most correct and valuable advice and suggestions to your server requirements that in turn help you to buy the perfect server for your functioning.
We make sure that you are offered instant solutions to your queries before and after server sales. With our additional extended warranties offered exclusively by Serverstack, we assure you of the highest quality and performance with our servers.
Being the reason we have been able to build wide trust among our community for offering the best customer service and after-sales service for our customers. And we intend to continue and even develop more in building higher customer value and relations with our clients, peers, and other stakeholders.
ASUS has proven to be a massive tech giant in bringing a digital revolution to India. With every year, ASUS is increasing its reach in India with do
The major characteristic of why businesses have chosen to go for ASUS servers today is the compatibility and productivity ASUS servers offer at extraordinary low prices. The customization and scalability features packed with adaptable programs and solutions make it the most perfect server solution in this dynamic environment.
Frequently Asked Questions
Q1. What is a server and example?
A computer that stores, sends, and receives data is called a Server. It basically "serves" another purpose and is there to offer services. One or more services may be offered via a server, which can be a computer, software application, or even a storage device.
The are a few examples of servers are database servers, print servers, mail servers, file servers, application servers, web servers, and game servers.
Q2. What does primary server mean?
A primary server is a server that replies to inquiries and serves as the initial source of Domain Name System (DNS) information. In contrast, the secondary server performs the same functions as the primary server but does not have the same level of data access.
Q3. What is a network server?
A network server is a computer that serves as a central repository for other computers in the network by offering resources such as hardware access, disc space, printer access, and so on.
Summary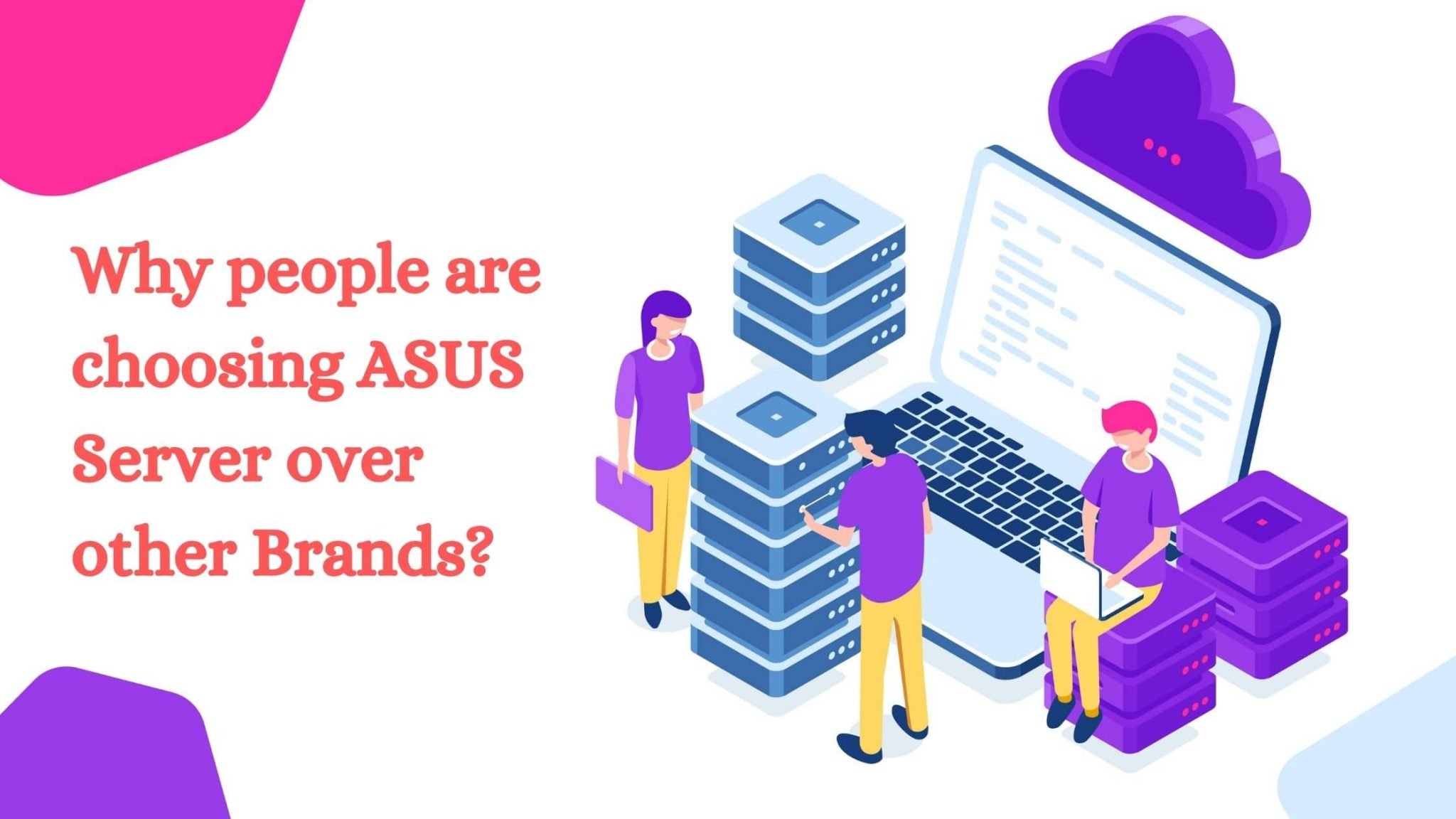 Article Name
Why people are choosing ASUS Server over other Brands?
Description
ASUS servers have earned worldwide acceptance from major economies and brands today. The power, flexibility, and other supporting technologies of the ASUS servers have proved to outnumber many other brands in terms of quality, adaptability, and performance.
Author
Publisher Name
Publisher Logo