Is "Brand" an important factor for your server buying process?
Many rational consumers have a common phenomenon of getting inclined to higher publicities. Getting inclined to more products and services that have a broader marketing strategy and assure greater value. Brands that have been in the industry for a higher experience have been able to build a legacy and goodwill that can attract consumers.
Though it is seen many times today that these brands utilize their brand name and developed goodwill to charge extra prices for the same or maybe lower server performance than what the younger and more appealing brands are offering today.
The more enthusiastic brands that have debuted in the last 10 years have turned out to be more competitive. They have been highly effective in delivering the best server performance at the most aggressive prices, which can drive consumer interest and moreover bring them greater value against the servers with huge brand names offering lower performance.
How many Brands supply servers in India?
Since the rapid boom in data management and processing in India, the server industry has witnessed a massive uptick in brands stepping in with high-grade servers. Now it's not the only competition between the two three server brands but the competition has scaled up much higher.
The monopoly enjoyed before by other brands is now being brutally challenged by the likes of ASUS servers. The brand ASUS is hitting the grounds of the server industry with high-end innovative servers that are flexible and capable of delivering high-quality performance at a very competitive and efficient cost.
The huge brand names that offer similar or maybe lower server durability and performance are still offering servers at a much higher rate than that of the other efficient server brands. Being the reason many businesses are turning their way to more efficient server brands which cope up well with state-of-the-art technology and are reliable enough to deliver great security and performance.
Brand name Vs. Brand performance
Branded servers no doubt offer you the assurity and security of a probable performance. They also give consumers a higher sense of confidence and reliability. Though in situations where the consumers ask for a custom-made server, even the branded servers might sometimes fall short of expectations and empty your pockets without any of much worth.
In comparison to what is important between brand performance and brand name, we would say brand performance is of the utmost importance to any business functioning. Yes, the brand name is also important to assure confidence, but you might end up paying higher than what other reliable brands might offer you at many efficient prices.
Today server brands like ASUS, offer you extended warranties along with an assured performance at a much more efficient rate than that of the branded servers. ASUS has established a reputed brand name as well that can even offer you confidence and reliability based on other user testimonials.
ASUS servers are known for their massive flexibility and compatibility features that make custom-made servers more customized, user-friendly, and compact to user requirements.
Why should you choose Performance before Brand name?
Server performance is the ultimate thing that will help your business function smoothly with the power it needs. Focusing more on the required configurations and how the server brands helps you fulfill them is the most important thing that will help your business meet its server's purpose.
If you blindly go towards the brand name not focusing on the configurations it offers and at what price it offers, you would get confidence for sure but eventually, you would see your server has fallen short of the required configurations and you have ended up paying more price.
Being the reason, your main goal first should be to research the servers that offer you all your required configuration needs and then compare between brands, warranty, after-sales service, and price.
Clear your doubts regarding server warranties
Some brand names might offer you a more appealing server warranty but will not guarantee or offer you important after-sales service. So make sure to also check that market standard server warranties are offered along with probable after-sales technical support. Ask regular questions on warranties before buying a server.
Check for the previous client testimonials and their reviews for server warranties and how they work. At Serverstack, you even get extended warranties on major components of the server adding to the existing warranty. You are also offered streamlined technical support to help you at any hour whenever you face any issues with your server's functioning.
Compare the server benchmarks
Before you make your server decision, make sure that you check all the important server benchmarks in your selected servers that can help you get a gist of the performance you will receive. Compare the server chassis benchmarks and check whether enough virtualization capacity is offered.
You can do server benchmark tests based on the compatibility of the specific software you would want to use. Checking on the load balancing and how optimized the operating system works at high load. You should also check with the data centers whether they are equipped with systems that can forecast or determine any potential problems instantly. These data centers should be equipped with high-quality monitoring and tracking tools.
Check all the benchmarks you have set regarding your server configuration requirements. Check to tweak BIOS settings and also check the cloud service capabilities.
Is the "Brand" suggesting a high-end server that is not useful for your organization?
You should ask this question to yourself every time before you buy a server. There can be instances where a brand will offer you high-end configurations but won't be compatible and flexible enough to cope up with your service requirements.
Every business has different functions and accordingly, they have different business requirements. The standard branded servers are sometimes very rigid with their configurations and might fail when it comes to custom-made servers.
Being the reason why sometimes branded servers would offer you the most powerful server, but they won't adequately fulfill your requirements.
Brand names undoubtedly can yield you greater confidence and reliability. They are also fulfilled with great features and assured security. But with other more efficient and flexible brands stepping into the competition.
It is smart enough to go for those brands which offer you the highest performance, security, and flexibility at efficient prices. And in today's market, there are more effective brands who are offering all the power you need at even extra added warranty periods.
Serverstack will help you find the most efficient and productive server for your operations, which will help you make the most correct server decision.
Our experienced server reps will help you make the most sound decision with valuable advice that will make your server research successful.
Frequently Asked Questions
Q1. What is server performance?
Server performance monitoring is the practice of gathering metrics regarding server activities to ensure everything works as planned. It keeps track of the server's system resources, such as CPU utilization, memory consumption, disk usage, input/output (I/O) performance, network uptime, and other factors.
Q2. What affects server performance?
The three most important elements influencing server uptime are hardware, operating system, and software. To maximize server uptime, employ high-quality hardware, keep your software up to date, and develop a strong architecture. Another important issue to consider in order to enhance uptime is security.
Q3. Why is server performance monitoring important?
Server monitoring is required to discover any performance issues before they have an impact on the end user. Understanding the server's system resource usage is made easier with the help of server monitoring. You may then correctly plan the server's capacity as a result.
Summary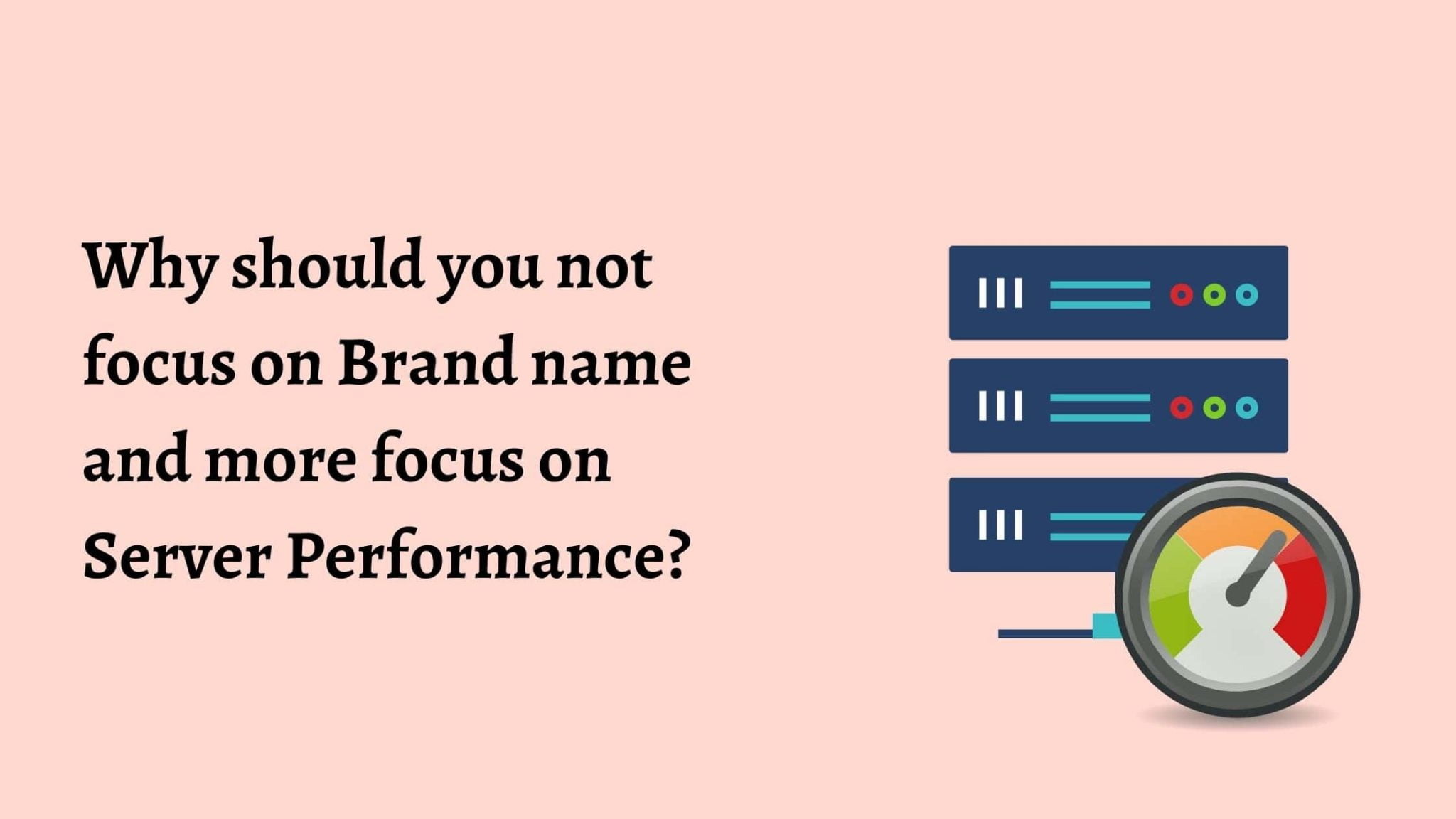 Article Name
Why should you not focus on Brand name and more focus on Server performance?
Description
Many rational consumers have a common phenomenon of getting inclined to higher publicities. Getting inclined to more products and services that have a broader marketing strategy and assures greater value. Brands that have been in the industry for a higher experience have been able to build a legacy and goodwill that can attract consumers.
Author
Publisher Name
Publisher Logo