ASUS has proved to be an industry leader when it comes to offering powerful products at efficient prices. The server lineups offered by ASUS offer unbelievable customization and flexibility options that make it compatible with small-mid and large-sized businesses today.
The assured uptime, bandwidth, threads, HDD bays, and pre-installed components like the OS and RAM make it quite feasible to run with the word go!
The ASUS servers make headlines today because of the fact that it offers useful and durable servers at very affordable and reasonable prices. The ASUS servers offer great flexibility to adapt and cater to different needs of different businesses easily.
These servers are fulfilled with exceptional built-quality and state-of-the-art technology which makes it one of the most looked after server brands in India.
Types of servers used in businesses
Virtual servers are the virtual modes of physical servers that have the ability to share software and hardware resources and OS among different users at different locations and at different times virtually. These servers are considered to be the backbone of the new normal as it offers the efficiency of any time and anywhere resource access.
The Open Source Servers are the public-domain software that can help to deliver worldwide web pages without any hassle. These servers are termed to be very compatible and flexible with any kind of open-source server operating system. These are indeed some of the most crucial servers used by the IT team today.
Application servers are known to be the major link between the database servers and the end-users. They act as an intermediary to offer all the database and storage services to the end-users.
These servers are majorly named on their structure and size. These servers are rack-mounted servers that are of a rectangular structure and can be fitted one over the other in a rack. That is why it gets very handy for data centers and even offices that are space-constrained or who have multiple servers to function. It is also known for its efficient airflow ventilation and scalability that is easy to carry, handle and operate.
ASUS server build quality
ASUS servers are built with top-quality hardware and software materials that make them durable in the long run. It offers the most right and accurate structure of the server that facilitates proper ventilation.
It is also one of the most flexible and compatible servers in the market today that can fit into any given condition. Moreover, you get additional warranties of the server and its major components by Serverstack adding to the already healthy warranty you get with ASUS servers.
These ASUS servers are capable of taking the hardest of hits due to their premium outer covering which is equipped with high-quality materials.
ASUS servers are known to be the face of efficient and productive servers in India. ASUS servers offer the best of quality and performance using the most advanced and valuable components that deliver the most apt performance.
The lowest range of ASUS servers starts from as low as Rs. 80,000 – 1,00,000***(Terms & Conditions). These ASUS servers are made to fulfill the essential server needs of small and medium-sized businesses that can afford these servers easily and get the max-out performance.
Moreover, these ASUS servers are highly flexible to scale up or downsize at any point of time as per business requirements.
Variety of servers to match all needs
From offering the most compatible rack servers to power servers like high-density servers, GPU servers, tower servers, etc. ASUS offers a wide range of servers that can facilitate each and every requirement of your business.
ASUS servers offer you resilient, versatile, and scalable features which can cater to diverse workloads of all kinds and in any data center environment.
The ASUS servers come between Generation 7 to Generation 10 as per the generation of the components and programs used. You can also customize your server as per your own OS requirements and can also adjust server storage.
Right price for right configuration
ASUS servers will ask you the most correct price to the performance it will deliver to you. With ASUS servers, you can also customize configuration easily and pay for what you choose.
The ASUS servers use the most advanced components, applications, and programs to promote high-end durability of performance and security.
It also lists down all the components used and in what structure, power, intensity, and capacity so that you are informed and you pay only for what you feel is worth it.
Latest technology for seamless experience
ASUS always excels in crossing benchmarks and creating new world records in innovation and implementation of efficient technology.
ASUS servers are known to be one of the topmost efficient servers in green computing producing the least TCO in the data centers. It also offers you a system of integrated management that makes your work easy and seamless.
It uses the best of technology to help you save time on robust operations and also to create business-specific interfaces in no time. ASUS also makes use of improved AI technology in order to bring the maximum of performance, options, and features that can help your business achieve new heights.
World records for Single-Socket and Dual-Socket server performance
ASUS continued thumping on its benchmark-breaking runs, by getting 30% more #1 results than other server vendors. As per the SPEC (Standard Performance Evaluation Corporation) CPU 2017 benchmark.
It received the award of the most world record holder in the single-socket (IP) and dual-socket (2P) for high-end server performance. These servers who have set records for ASUS are run across Intel and AMD platforms.
World record for fastest 2P server performance
The ASUS server line of RS720Q-E9 which is a 2U4N 2P server of a high-density set a major world record of cracking 97 benchmarks for handling compute-intensive applications. These benchmarks were from the 2017 benchmark packages of SPEC.
It was known to be highly compatible for processing-intensive environments like private cloud applications and data centers.
This 2P server is capable to handle two to eight processors along with 48 DIMMs for up to a massive range of 6Tb of memory. These record-breaking servers are based across first and second-generation Intel Xeon processors.
More than 2000 organisations growing with ASUS server
More than 2000 organizations together with many other businesses, institutions, and firms are progressing using the ASUS servers today. And many have some really good things to say about the performance and efficiency ASUS servers offer.
For instance, The National Cheng Kung University who uses ASUS multi-node servers has been able to build a robust comprehensive disaster management and prevention system in their business mechanism. Certis has been able to build a secured data center in Singapore.
Hosting companies and various data centers trust ASUS servers
Due to the assure performance guarantees and efficiency ASUS offers, many hosting companies look up to ASUS to promote their hosting services.
Many hosting companies today host their client's websites on ASUS servers and have excelled in their business performance.
Many data centers believe in ASUS because of the low TCO emissions it exerts helping in green computing alongside offering the most secured and prevented mechanisms.
With Serverstack you can customize your personal server with the custom configuration according to your budget! So let's just connect with our server expert Now!
Frequently Asked Questions
Q1. Where is the rack server used?
Due to their great scalability, expandability, upgradability, and ability to host compute-intensive software, rack mount servers are the most widely used servers in the military, industrial, and commercial programs and applications, but tower and blade servers also make an appearance from time to time.
Q2. What is rack server vs. blade server?
One server can fit inside one section of the rack because rack servers are very broad and short. In comparison, you may fit 20 blade servers into a compact space in a bay of blade servers. Unlike rack servers, blade servers are utilized for high-powered processing and are hot-swappable.
Q3. Why are servers called blades?
A blade server is made up of several thin, modular electronic circuit boards, or server blades, that are contained in a chassis, or box-like frame. Due to their incredibly thin shape, they are known as blades. A single server, frequently dedicated to a single application, is found inside each blade.
Summary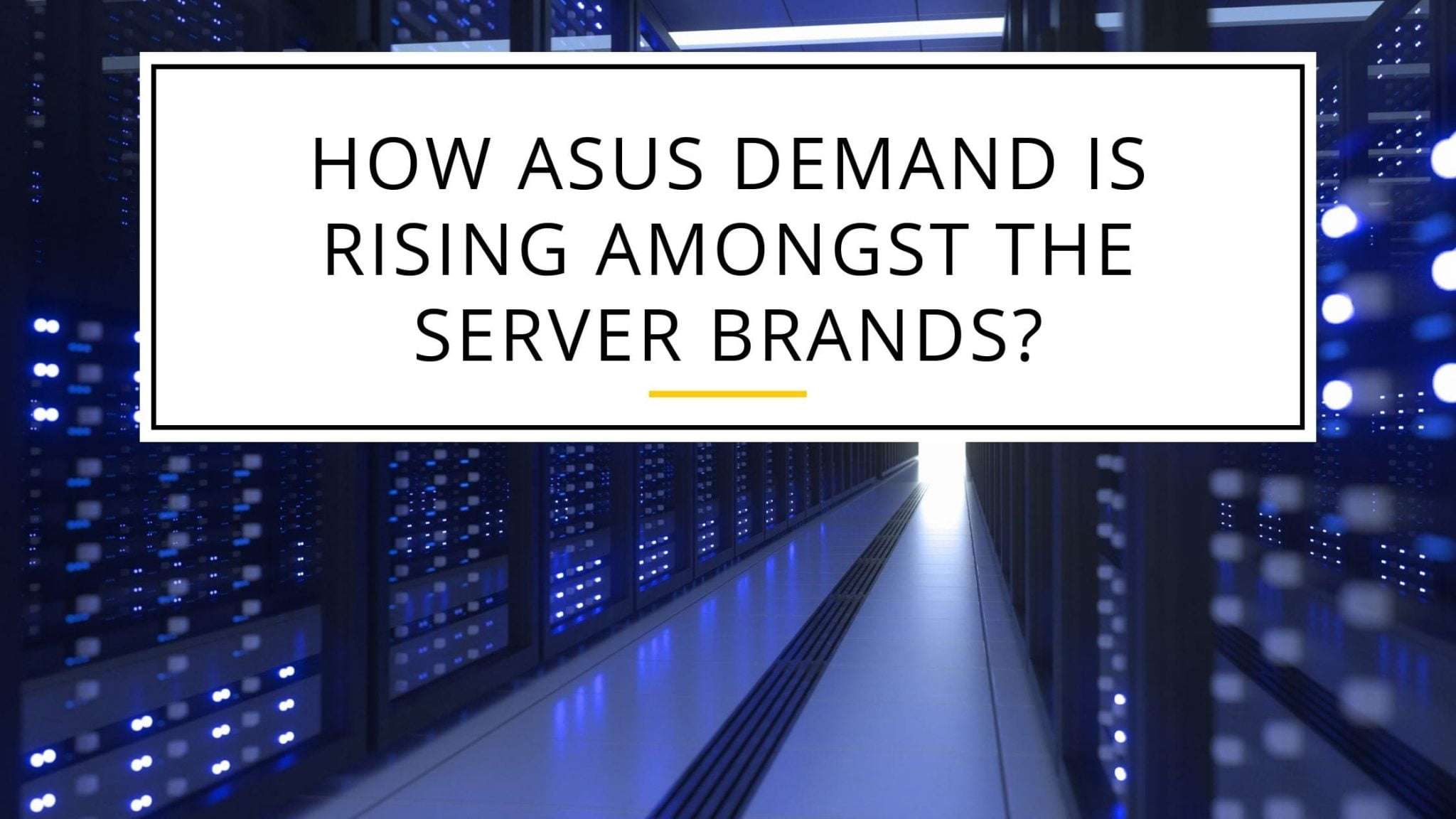 Article Name
How ASUS demand is rising amongst the Server brands?
Description
ASUS has proved to be an industry leader when it comes to offering powerful products at efficient prices. The server lineups offered by ASUS offer unbelievable customization and flexibility options that make it compatible with small-mid and large-sized businesses today.
Author
Publisher Name
Publisher Logo