Buying a server in this new normal where everything is going on remote networks has become one of the biggest essentials. Servers have played a major role in managing businesses virtually and on remote networks with efficient storage, processing, and management systems.
With this huge demand, there are multiple providers who will have different quotations and techniques for their prices. Though it is you and your business requirements who needs to evaluate the most budget friendly and performance efficient server that can manage your business productively.
Here is where Serverstack aces in providing its client's the most effective and cost-efficient server that fits perfectly to your budget friendly requirements and yields you maximum results.
How Serverstack help in choosing the right Server?
1. Understand client's current storage solution
We first understand what your business is and what power is your business functioning currently. We analyze what are the effects your current storage solution is causing on your performance.
We take all this information only after your consent and information. Once we are aware of all your current storage capabilities, our server experts list you the pros and cons and what is the best server that can finetune your storage solutions.
2. Plans a proper specification required for the business
We also process a deep analysis of your business operations, supply chains, and regular functioning after which we let you know what are the important specifications that your business would need in order to prosper in every situation.
These specifications are planned in such a way that it fits perfectly to what your business requires but, in a budget-friendly way and more of prioritizing the important specs first.
3. Configure the server according to required specification
Once we understand the required specifications and once, we get your consent after informing you, we customize a full-fledged standardized server as per those specifications and requirements.
4. Install the right OS & setup raids
We then consult and install the most compatible OS among windows, Linux, RedHat. Ubuntu, etc. and adjust RAIDS between 8 to 24 bays as per the specifications needed.
5. Deploy the server to client
Now we finally deploy the most flexible and compatible server designed and customized specifically as per your business requirements and help your business shine at the budgets you are friendly with. We do all the research and analysis for your specifications free of cost.
Why Serverstack is budget friendly?
1. We only suggest the required specification
Firstly, we understand what your budget is and what is the maximum or minimum amount you can stretch up to. Then we evaluate all the specifications your business would require and list them down. We then prioritize each specification and give them weightage as per their importance.
Then we create a list of specifications that are actually important and can fit upto your best budget server comfortably. We then show all the specifications shortlisted and all the specifications eliminated to you. By this, we add only the most important and required specifications to your server as per your consent.
It's been more than 10 years since we have been one of ASUS's premium partners, distributors, and promoters of the ASUS brand servers. ASUS has not just been a leading server provider but has also proved to be one of the most powerful yet efficient in customization abilities and performance deliveries.
ASUS has been one of India's most efficient server providers that features more budget friendly customers. Serverstack being affiliated partners of ASUS, offer you all the premium line ASUS brand servers at the most efficient prices possible.
3. Durable servers with high performance
Serverstack offers you the most premium quality servers filled with redundant power supply, expandable RAID options, and many other top-of-the-line features, that promote long term durability and usage without any glitches or errors.
The combination of high-end flexibility of Asus servers and extreme support services by Serverstack brings you the perfect combination of durability and long-lasting performance.
How can you purchase a server from Serverstack?
To get your server, all you need is just fill the lead form on our website with the important details regarding your personal details, contact details, and your ultimate requirements. Once you fill in the lead form, our Serverstack reps will get in touch with you instantly!
2. Chat with our server experts
You can also post your requirements on the chat box you would find on our Serverstack homepage. The server experts are 24/7 live on our chat box to hear any of your requirements, problems, or any other inquiries related to servers.
3. Build your own servers
Our servers are designed explicitly to get customized as per your business requirements. Let us know your specific requirements regarding OS, RAID, HOT SWAP, RAM, Storage required, and the budget for your server. We will streamline the best and most feasible server as per your requirements and budget.
So, what are you waiting for? Visit our website and buy the best budget friendly server for your business. Our server experts are always ready to guide you in choosing the best server for your organization.
Frequently Asked Questions
Q1. What factors should i consider while selecting a server for my business?
Q2. When buying a server, what should i check for?
When buying a new server, there are four things to check for:
Q3. How do i build a server?
Summary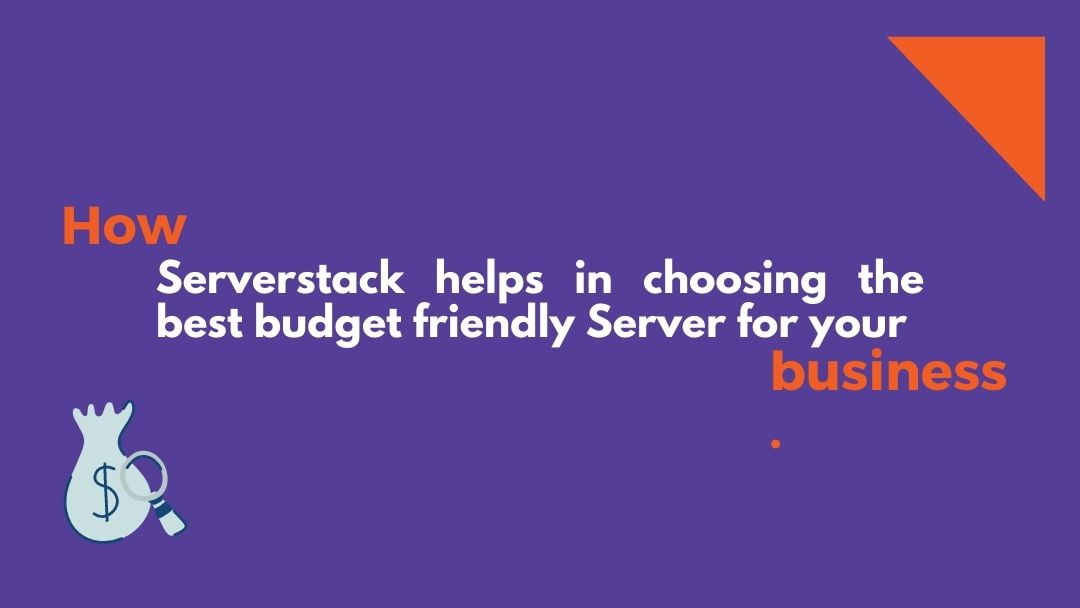 Article Name
How Serverstack helps in choosing the best budget friendly Server for your business?
Description
Buying a server in this new normal where everything is going on remote networks has become one of the biggest essentials. Servers have played a major role in managing businesses virtually and on remote networks with efficient storage, processing, and management systems.
Author
Publisher Name
Publisher Logo