ASUS as a brand has earned the highest of goodwill in building the most solid hardware and efficient functioning techno systems that have brought easy real-life solutions into action.
ASUS servers are powered by providing optimized and effective systems for the use of cloud applications, programs, and data centers.
We here at Serverstack take a lot of pride in extending the powerful services of ASUS servers, offering a wide platter of different range ASUS servers.
Below are some of the most influential and significant reasons why you should consider ASUS brand servers for your day-to-day business functioning.
1. Build quality of ASUS servers
ASUS servers are known for their top-quality design and highly compatible and comfortable structure, making it robust and hand at the same time.
Besides the excellent design, Serverstack also offers you a warranty for the important hardware used in the server. The servers by ASUS are assured with top-quality material used for its outer layer covering, in order to ensure the utmost safety, having the ability to take even the hardest of hits.
2. Guidance to choose the right server from Serverstack
You can get all range of ASUS servers from 1U to 2GPU servers, large storage servers, enterprise servers with HDD bays of 8 to 24, and generations from E7 to E10 along with multifarious RAM options from 32GB to more than 256GB all at Serverstack.
At Serverstack, we offer you a wide platter of range for ASUS servers that fits perfectly as per your business needs. We offer you expert assistance and guidance for your ASUS servers at absolutely no costs!
3. You can build a fully customized server from scratch
You can configure each and every element and component of your ASUS server as per your requirements with the help of power configurator features offered by Serverstack. You can add in additional drives or maybe scale-out nodes, or even reduce the drives or any other component as per your business convenience.
You also get full tech guidance for custom configurations that can fit into your specific hardware requirements.
5. Wide variety of servers to choose
ASUS along with the exponential partnership with Serverstack together brings you a wide range of different servers from E7 to E10 generations that can fit perfectly into your business models. ASUS servers come with the lowest to the highest power with different HDD, RAM, and CPUs that you might need.
6. Extended warranty on servers
Serverstack offers unbelievable asus extended warranty india. You also get extended upgraded options for the warranty on specific components and elements of the ASUS servers. Along with the warranty, you also get free expert technical support and assistance from Serverstack to take care of your ASUS servers.
7. Express delivery all over India
Serverstack brings you the fastest deliveries and shipment of your ASUS servers. You can buy your favorite ASUS servers from any location in India at the comfort of your home on our website and we will get them to you at the earliest.
6. 100% post sale service for your servers
At Serverstack, we are known for our commendable 24/7 expert technical support services who will be super responsive and active to hear any query from our ASUS server users at absolutely no charges.
Our support team is back by experienced and trained professionals who will be at your service day and night bringing you the most efficient and robust solutions as early as possible.
8. Dedicated installation guidance
ASUS servers are the easiest and innovative to be installed and worked. It is also one of the most efficient hardware to set up in just a few hours or maybe minutes.
ASUS servers come with an easy-to-understand installation guide that will help you to install your server from clip-in slide rails to the pre-configured RAIDs with already installed OS. Serverstack will guide you wholly on your journey of ASUS server installation.
9. Cost-efficient and performance centric
ASUS servers are known for their value for money products because of the performance and power they offer at a low and efficient price.
The lowest of ASUS servers start from Rs. 80,000/-. ASUS servers have the high-end components used in a server that not only helps you in ease of management and trouble-free integration but also helps you with top-of-the-line security and encryption.
ASUS servers yield a comprehensive customizable model that can feature any business requirement without any latencies and major breakdown issues.
10. Long-lasting servers and durable
The ASUS servers come with a perfect design and structure that facilitates perfect conditions for HPC scenarios along with vertically-oriented hard disk drive (HDD) bays.
It comes with an extremely smart arrangement that enables free space on either side of the bays, leading to easier airflow to ventilate.
It comes with a 1+1 redundant PSY of 1620W 80 PLUS platinum that makes sure that your server is fulfilled with a redundant power supply enhancing power efficiency.
These ASUS servers, as discussed above, come with a robust built quality that protects them from even the major hits or environmental conditions.
They are protected with multiple layers of inner and outer safeguards along with the proper arrangement of components, which allows them to survive way longer than other brand servers.
Taking a look at the above 10 most significant and influential reasons why you should choose the ASUS brand and Serverstack, you must now be cleared and utmost satisfied with the decision of making ASUS servers the major driver of your business.
ASUS servers not only bring performance and efficiency at lower costs but also ensure that proper measures regarding the server's upkeep and inner arrangements are taken by easy steps.
Buying ASUS servers from Serverstack will turn out to be the most successful decision for your business as Serverstack enhances the effective features of ASUS servers with free shipping, extended warranty, and expert technical support at absolutely no extra charges.
So what is your business waiting for? Get your business a booster by employing and installing the efficient services of ASUS servers from Serverstack today! Our reps will be forever active to bring you the most beneficial and productive ASUS server offer ever!
Frequently Asked Questions
When compared to other manufacturers, ASUS's products are well-known for being more inexpensive, trendy, and accessible, and it has garnered over 1800 awards for its efforts in design, performance, and outstanding innovation.
Q2. Which company owns ASUS?
Liao. ASUS is the world's fifth-largest PC vendor by 2013 unit sales (after Lenovo, Hewlett-Packard, Dell and Acer).
Summary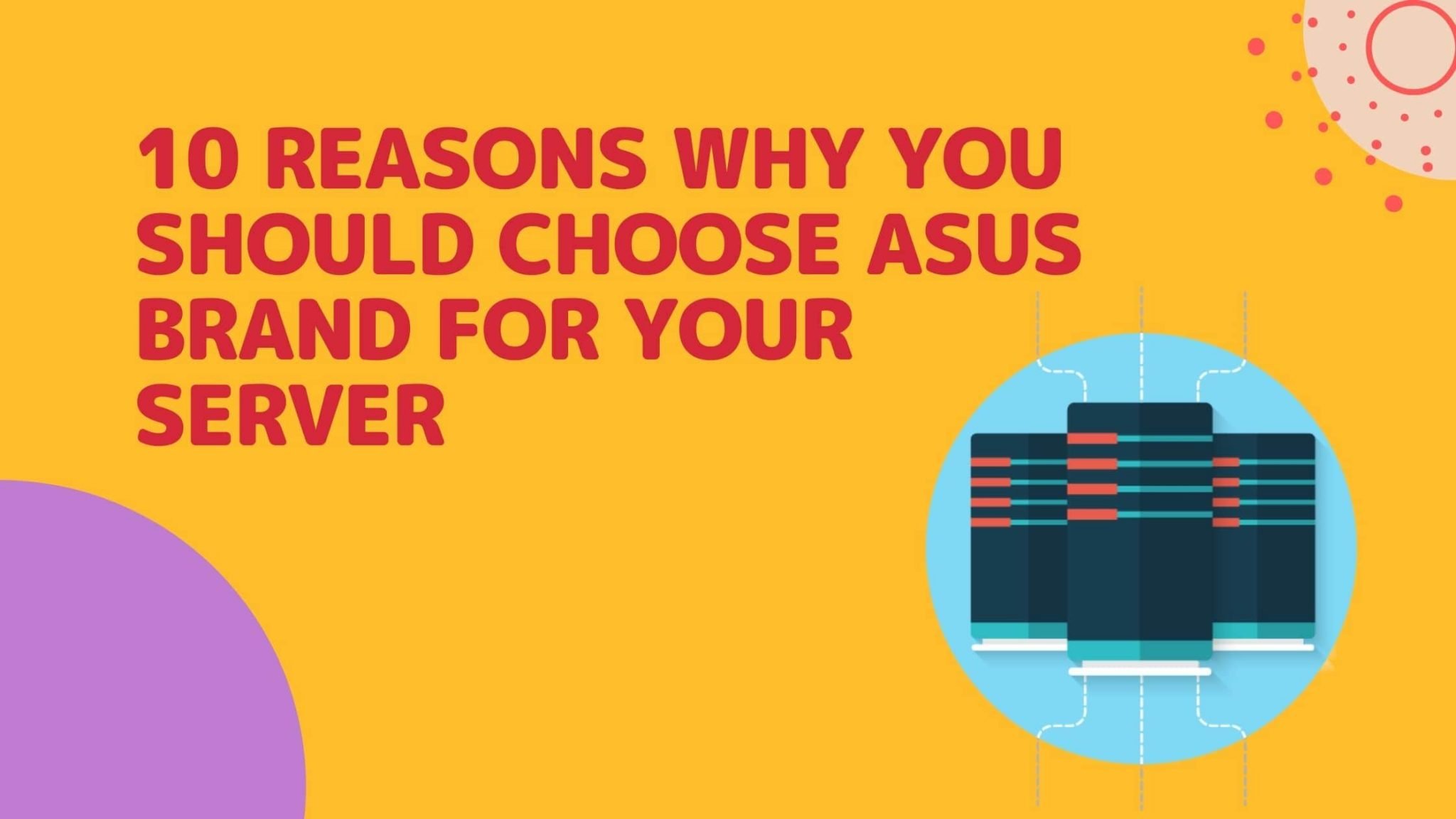 Article Name
10 reasons why you should choose ASUS brand for your server
Description
ASUS as a brand has earned the highest of goodwill in building the most solid hardware and efficient functioning techno systems that have brought easy real-life solutions into action. ASUS servers are powered by providing optimized and effective systems for the use of cloud applications, programs, and data centers.
Author
Publisher Name
Publisher Logo