Rack servers
are the 
rack-mounted servers 
which by their name are placed on a rack and runs by 
cabling 
huge network connections. Rack servers are said to be the 
optimum servers 
to complement the 
flexible 
or 
scalable 
needs of businesses. It is also considered to be a 
perfect server 
for space consumption and can be used on-premise 
easily.
How the rack server plays a major role in managing all the network?
With the 
growing 
and 
changing 
business needs of businesses, 
computing 
has risen a need of using from anywhere, any desktop, any location, any device. Therefore, 
business growth 
would surely require many resources, employees, desktops, etc., which would also require competent 
technology
 to maintain all these resources. Here, the 
rack server 
plays a major role in managing all the network connections between all the employees, desktops, and users to prepare for 
growth 
and 
sustain 
smooth business operations from the outset.
What are the features that the rack servers offer?
Rack server
 helps you to perform multiple tedious tasks
 easily 
and counter all the challenges like power and cooling requirements, data management, administration costs, etc. 
Rack server
can be 
of
utmost beneficial 
for your growing business due to following reasons –
These are just a few of the many features that the 
rack servers 
offer you. Rack servers can fulfill all your 
high-end business 
needs with all the applications you want to install and run with the greatest 
flexibility
 and 
functionality.
How Rack servers will take care of all the employee-related connections?
Rack servers
will take care of all the 
employee-related connections 
related to print sharing, networked files, or email.
Therefore, if you are exerting pressure on your computing infrastructure due to the 
increased growth 
of the business, then it is recommendable to use 
rack servers 
to power up and grow more. If your business has future insights of more 
development 
or upgrades in the future, don't worry rack servers have those 
awesome features
to adapt and scale up with all the growing needs of the businesses along with giving the 
perfect performance 
for 
cabling 
all the network connections.
Serverstack
 is the premium dealer for 
rack servers
and is determined to assist all the 
growing businesses 
who are looking for that ideal tool to gear up and manage their business. You get the best breeds of rack servers at 
exciting offers 
with all the resources you are looking for. With utmost speed, reliability, flexibility, and security, 
Serverstack
 ensures you provide the 
best rack servers 
in the market.
Frequently Asked Questions
When does a business need to buy a server?
A server is used to store a large number of data files. It is made to handle a large amount of data transfer over a network. When a company starts expanding the need for data storage increases. Since data stored is confidential and important so they cannot compromise with any cloud storage solutions. Hence when a company starts growing they should buy a server for the smooth functioning of their day-to-day task. our server can expand up to 300TB of storage & 512GB of RAM to function smoothly in a multi-tasking environment.
Do server cabinets always need cooling?
You do not need additional cooling fan kits if your cabinets are just partially filled and have perforated ventilation holes in the front and rear. To allow sufficient airflow from front to back, server manufacturers usually suggest a minimum perforation factor for the doors of the cabinets that will be used to house their servers, which is typically from 63% upwards.
How much do typical server cabinets weigh?
The majority of server rack cabinets can accommodate up to 300kg of internal weight. This will depend on the type of cabinet and its height and whether light or heavy use is intended for the rack cabinet itself.
Summary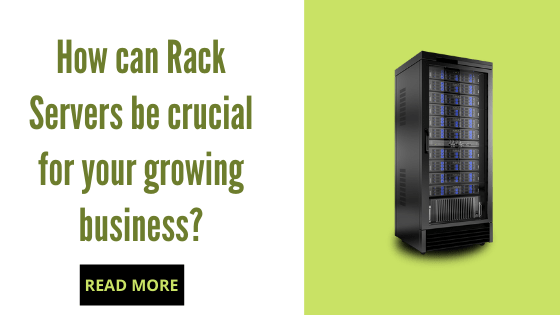 Article Name
How can rack servers be crucial for your growing business?
Description
Rack servers are said to be the optimum servers to complement the flexible or scalable needs of businesses. It is also considered to be a perfect server for space consumption and can be used on-premise easily.
Author
Publisher Name
Publisher Logo