RAID or Redundant array of independent disks provides you the function to store data combining multiple physical disk drive components into one or more logical units for data redundancy. It contributes highly to enhancing performance and gives a highly reliable storage option in the form of disk drives or software.
How the RAID is functioned?
It functions by distributing data across hard drives depending on the required level of redundancy and performance. Your slots of Hard drives are distributed with a copy of your original data so if your original data misses out, there's still a backup. There also comes RAID chips or hardware RAID chips which can be used to store data as a backup.
What are the uses of RAID?
RAID can be super-efficient to use as it offers safety and recovery for your valuable data and ensures that you never miss out. It though comes in two forms, hardware RAID and software RAID.
Hardware RAID is the same as we discussed above where there is a hard drive storing the copy of original data.
Software RAID performs its functions and processing on the host's CPU. It does not comprise the server processor loading data which has some effects on its performance.
In a hardware RAID setup, the drives are attached to a RAID controller card inserted in a fast PCI-Express slot on the motherboard. This works the same for personal computers as well as larger servers. The RAID controller card has been built into the drive enclosure of several external RAID drive enclosures.
What are the advantages of Hardware RAID?
Better efficiency, especially in RAID configurations that are more complex. Instead of the main computer processor, the processing is done by the dedicated RAID processor, which translates into less strain on the machine when writing backups and less downtime when restoring data.
Has more RAID configuration choices, including hybrid configurations that aren't available with some OS options.
Compatible through multiple systems of operation. If you want to access your RAID system from both a Mac and a Windows device, this is important. Any scheme will understand hardware RAID.
What are the disadvantages of Hardware RAID?
Since there's more hardware, the initial configuration requires more costs.
Certain hardware RAID configurations that use flash storage arrays have inconsistent performance. Older RAID controllers disable the SSD's built-in quick caching functionality that is needed to program and erase the drive efficiently.
Software RAID configurations are only used in enterprise computing for large systems.
When storage drives are attached directly to a device or server without a software RAID controller, the configuration of the RAID is handled by utility software in an operating system known as a software RAID setup. RAID configurations are provided by multiple operating systems, including Apple, Microsoft, various Linux flavors, as well as OpenBSD, FreeBSD, NetBSD, and Solaris Unix.
What are the advantages of Software RAID?
RAID Software configurations are supported by most operating systems, making it simpler to set up and complete configuration tasks that resolve a number of issues.
Software RAID installation is much cheaper since additional hardware equipment is not required.
Software RAID is primarily suitable for basic RAID 0, RAID 1, and RAID 10 processing, which does not cause additional device loading.
We can set up a RAID configuration on one operating system and use it on other systems that are identical.
RAID level re-configuration is possible, as the settings are versatile and not difficult.
What are the disadvantages of Software RAID?
Software RAID is also unique to the OS being used, so it can not be used with drive arrays that are shared between operating systems in general.
You'll be limited to the levels of RAID that your particular OS can afford.
Performance hits, if you're using more complex RAID setups.
The real question arises which is better?
Well software RAID is considered to be efficient as with any system you can use it but there are some performance measures in which software RAID may lag.
Here Hardware RAID plays a major role in providing the topmost performance as with Hardware RAID, logical disks are replicated outside the system where a physical controller manages the system. This controller presents data to applications and operating systems as logical units.
Software RAID is also consider by businesses as it poses a convenient option but not a sure option to give utmost availability.
On the other hand, Hardware RAID gives a powerful alternative to store and recover data without any breaches.
In this article we learned what RAID is, its functions, and its uses. We have also reviewed the advantages and disadvantages of Hardware RAID and Software RAID. At Serverstack we offer you the services of Hardware RAID and Software RAID with utmost security, helping you to assure data security and application.
Frequently Asked Questions
In some instances, a Hybrid RAID offering can be superior. For example, if the RAID is inserted into the motherboard BIOS, while a device is on, it may provide additional redundancy that may prevent data corruption.
A parity bit is a common method of error detection used by some RAID methods during the transmission and storage of data on the array. Parity applies a checksum to data being shared on target drives to ensure that the data is as close to indistinguishable from data on source drives as possible. RAID 5's primary approach is based on parity.
So-called Fake RAID is a name widely applied to RAID motherboard / BIOS functions that, as it is understood, provide the bare minimum of RAID functionality. Low-end RAID cards are grouped together in this category because they can lack features such as DRAM cache and power loss protection found in more expensive counterparts.
Summary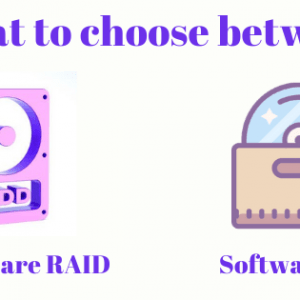 Article Name
What to choose between Hardware RAID and a Software RAID?
Description
RAID or Redundant array of independent disks provides you the function to store data by combining multiple physical disk drive components into one or more logical units for data redundancy.
Author
Publisher Name
Publisher Logo