If you are looking for the best servers for small business you are in the right place. In this article, you will be provided with information about the best and latest servers of 2020. We have picked the ASUS servers which are strong enough to work under intense load. The server which has been chosen in the article provides the best features at extremely minimal price with incomparable performance.
4 best servers for Small business 2020
The ASUS RS720E7/RS12 is a high-performance 2U storage server. Its hot-swappable design provides non-stop high availability, with easy maintenance and servicing.
It consists of 6+1 expansion meaning it has got 6 expansion slots and in addition one dedicated slot for ASUS PIKE SAS RAID upgrade kits.
It also meets the demand for future expansion. The use of 1+1 redundant 770W 80Plus Gold power supplies offers high power efficiency.
The server consists of the QUAD LAN support which provides high networking bandwidth with load balance and faults tolerance functions. You can also have complete remote server management where users can get full control of the server with out-of-band management and 24/7 real-time monitoring.
This server provides a maximum of 100TB of usable storage. This is for the user who has normal or needs to use the server just for a day to day basis to avail the features for their small business.
ASUS RS500 E8 Ps4 Rack Server is a 1U rack server that delivers extreme computing power, high memory and storage capacity, as well as highly flexible expandability.
The server consists of advanced air-ducting technology which allow it to work at high operating temperatures. This server is highly durable with 94% efficiency.
It offers the user easy diagnostic and management. It has easy deployment also premium components for providing premium efficiency.
This server is best for the Business which specifically needs a 1U rack server. It is very compact and consists of the 4 Hard Drive Slots. Usually, this type of server is bought by the user which has entry-level use or minimal use. It is also provided at a very affordable price.
ASUS ESC4000 G2S is the latest supercomputer based on the dual Intel® Xeon® E5-2600 v2 processor platform, featured with streamlined design.
It has high-density computing power, scalable expansion capability, and an intelligent thermal solution. The server consists of 8+1 flexible expansion slots for high expandability, compatible with versatile expansion cards.
In addition, there is an optional riser for a low profile/half-length card and PIKE solution. It also consists of 1+1 redundant PSU which consists of power efficiency upto 94% for energy savings.
This server is recommended for those who has need of high graphic card as you are provided with 8 support. This server will be best used for those who have much use in gaming or live TV. It is also for those who have used related to channels.
This server is equipped with 32 DIMM slots, highly reliable, and consists of supercomputing capabilities. You can have outstanding computing with Quad CPUs and dual GPUs.
The server delivers outstanding performance with up to four new Intel® Xeon® E5-4600 processors, which together offer a max 32 computing cores in a 2U system.
The server has enhanced reliability, better efficiency, and improved serviceability. It also consists of QUAD LAN teaming ports providing high networking bandwidth with load balance and fault tolerance function, which reduce the data processing bottlenecks in virtualization environments by enhanced virtualized traffic.
This is enquire by the user who needs more core. This is very high-end servers especially created for the big running companies which have a lot of data and use. It also consists of high storage for smooth working and to handle the intense data load.
Our server experts are always ready to guide for choosing the best server for your organization. Just drop your queries in our chat box, and we assure you the best deals on servers. You can check out our handpicked small business server here.
Frequently Asked Questions
Q1. How much RAM is require for a small business server?
The amount of RAM in your modules, measured in gigabytes (GB), is referred to as capacity. Server memory capacity ranges between 16GB to 32GB. In terms of size, for high-end workstations, a minimum of 16GB is probably optimal, although for more cost-effective residential setups, 8GB should enough.
Q2. How many servers does a small business need?
As a general rule, most businesses will want at least two servers, one for their website and one for their email. You could require more than two servers if you expect large amounts of traffic or performance. If you're not sure how many servers you'll need, the Serverstack team will assist you.
Q3. What is the cost of 1 server?
Checkout the ASUS server price list in India, which includes server configurations for all types of businesses, from small to enterprise. Basic rack server hardware starts around ₹80,000/- for small businesses. We provide server costs in India based on the configuration and needs of the customer.
Summary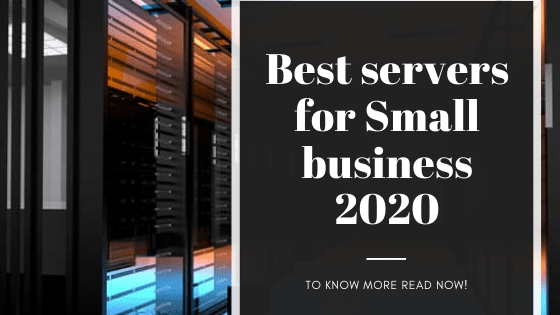 Article Name
Best servers for small business 2020 | Serverstack
Description
We have picked the Asus servers which are strong enough to work under intense load. The server which has been chosen in the article provides the best features at an extremely minimal price With Incomparable performance.
Author
Publisher Name
Publisher Logo